Being a dancer is more than a profession. It is a lifestyle. There are many elements that influence your progress, and the most important is consistent professional training. I know it first hand as I had a privilege of being trained by the legendary Ballet Masters. Now, I am glad to share with you my experience of 50 years as a ballet dancer and a teacher.
My goal is to help you become the best dancer you can be. My video classes contain detailed explanations of various aspects of ballet training that will help you fulfill your dream through focus, dedication, and hard work.
See you in class!
Vladimir Djouloukhadze was a student of the legendary ballet teacher, dancer, and choreographer Vakhtang Chabukiani. He was also coached by Konstantin Sergeev and Agrippina Vaganova's students – Natalia Dudinskaya, Tatiana Vecheslova, and Fea Balabina.
Mr. Djouloukhadze holds Master's Degree in Ballet Teaching and Choreography from the prestigious Russian Academy of Theatre Arts (GITIS).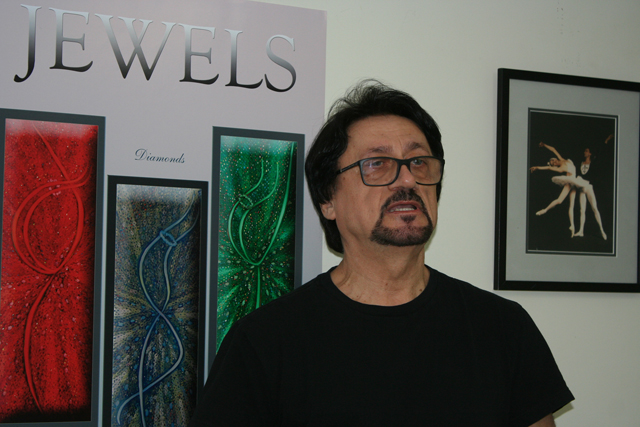 Vladimir Djouloukhadze had an international career as a principal dancer with the highest awards and performances in Europe, Asia, America, and Africa. He is best known as the first performer of the 20th century Georgian ballets and acclaimed for his highly technical and emotional representations of classic roles.
For 20 years he was a principal dancer with the Georgian National Opera and Ballet Theater, Tbilisi, Georgia. He also performed as a principal dancer and a guest soloist with various companies, including the Bolshoi Ballet, Kiev Ballet, Baku Ballet, and Universal Ballet. He partnered with prima-ballerinas of various leading ballet companies, including Irina Jandieri, Nadezhda Pavlova, Alla Khaniashvili, Ludmila Semenyaka, Lubov Kunakova, Nina Ananiashvili, Irma Nioradze, and Balanchine's niece Tsiskari Balanchivadze.
Mr. Djouloukhadze moved to the U.S. in 1991 and served as a Ballet Master and Artistic Director for the Ballet Mississippi, Jackson, Mississippi.
Mr. Djouloukhadze has been teaching ballet for 40 years at various ballet schools. He was also a director of the Mississippi Ballet School.
Mr. Djouloukhadze has been developing his students into the winners of the major international ballet competitions, including the Varna International Ballet Competition, the USA International Ballet Competition, Helsinki International Ballet Competition, Paris International Dance Competition, Paris International Contemporary Dance Competition, Shanghai International Ballet Competition, Nagoya International Ballet Competition, and YAGP.
His students have gone on to become principals, soloists and members of some of the world's most prominent companies, including the Royal Ballet, American Ballet Theatre, Mariinsky Ballet, Stuttgart Ballet, San Francisco Ballet, Boston Ballet, Houston Ballet, Washington Ballet, and Norwegian National Opera and Ballet. To name a few, Michele Wiles, Jonathan Jordan, Brooklyn Mack, Rasta Thomas, Danny Tidwell, Matthew Golding, Melissa Hough, Rory Hohenstein, Chauncey Parsons, and Constantine Allen.
For more information visit Wikipedia.
It is great to read wonderful words about
World Ballet Class Teachers!
Vladimir Djouloukhadze
A teacher who can explain and really teach. It is a rarity! Many people say, but such a level is rare in the world. it is no coincidence that it is highly valued by professionals and students in all countries of the ballet. Great Master! Each lesson is useful and necessary!
Vladimir Djouloukhadze
Great Teacher! Lessons are usually rare and expensive. Video tutorials - advantage and joy!